FREE CALLS* to regular phones over the internet. Just install the free VoipCheap application, plug a headset in your PC and start calling instantly! Download now!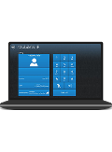 Call online friends for free. Call various popular destinations for free.
Easy to use, no spyware or adware. Download now!


MAC AND LINUX USERS CLICK HERE
Tell your friends about us
Introduce your friends to VoipCheap and get more free calls. Click Here!